How much super should I have?
Having enough super is key to being able to live the life you want in retirement. If you're eager to find out how your super compares to other Australians your age, then you've come to the right place.
3 minute read
Key takeaways:
There's no magic number when it comes to your super balance – the truth is, everyone's goal will look different
If your balance is lower than the average, there are several ways you can boost your super to get back on track
Even if you're on track, additional contributions now could make a big difference for you in retirement
How does your super compare to the average super balance?
It's human nature to compare ourselves to others, but in the case of super, it really comes down to making sure you're on track to meet your retirement goals – which will likely be different to the next person's.
Still, if you are interested in comparing your super balance, the Australian Bureau of Statistics (ABS) has provided the average super balance data for Australian men and women of different ages up to the 2019-20 tax year. Take a look at the image and table below to see how you compare.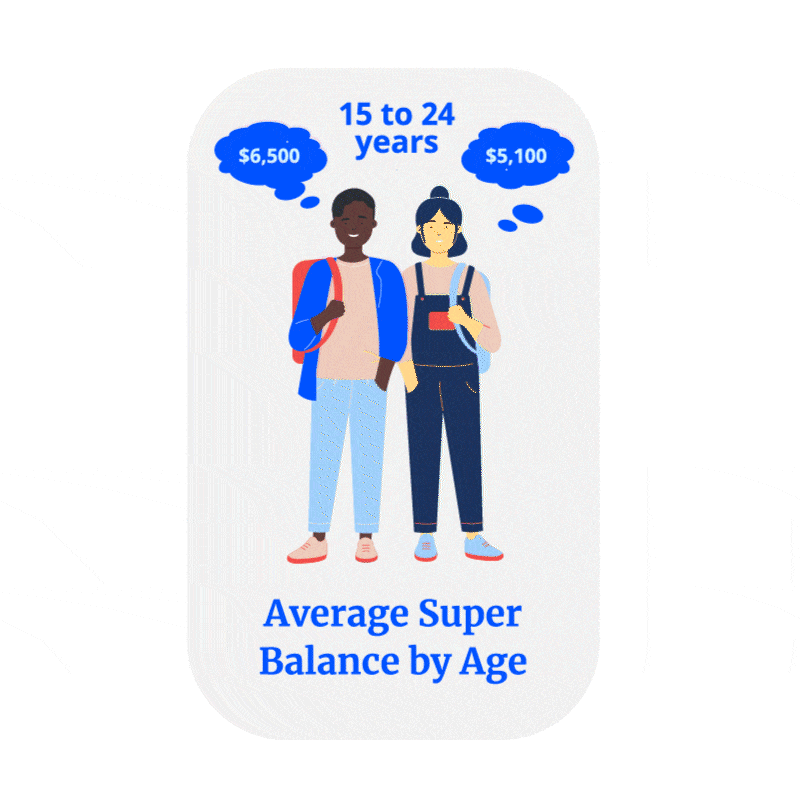 Average Super Balances by Age
Age
Male
Average account balance $
Female
Average account balance $
15-24
6,500
5,100
25-34
42,100
34,500
35-44
107,700
76,900
45-54
219,300
136,000
55-64
326,200
246,300
65-74
435,900
381,700
75 and over
370,900
314,100
Source: Australian Bureau of Statistics, Household Income and Wealth, Australia: Summary of Results, 2019-20, Table 12.3 Superannuation Account Balances, Persons with superannuation accounts, Age and sex, 2009-10 to 2019-20.
Why is my super balance lower than the average?
There are a number of reasons why your super balance may be lower than average. Women who may have taken extended career breaks to have and raise children may have a lower-than-average balance, for instance.
Other people may have taken a break from work to study, travelled overseas, work part time, or simply earn a lower-than-average salary. Whatever the reason, there are a few simple steps you can take that can help increase your super balance so that you will have more superannuation savings in retirement.
What should I do if my balance is lower than the average?
The good news is, there are several ways to boost your super balance to make sure you're on track to live your dreams in retirement, including:
Top ways to boost your super:
Find lost super
Consolidate multiple super accounts into one account
Salary sacrifice through your employer
Voluntary contributions
Spouse contributions
Government co-contributions (for those on a lower income)
For more details on each of these, visit our article on 6 ways to grow your super balance.
How to grow your super balance
What if my super balance is higher than the average?
Even if your super balance is above the average, it's never too early, or too late, to give it an additional boost. After all, small contributions made now can make a big difference to your overall balance in retirement.
Case Study
Lauren is 36-years-old and earns $90,000 a year. She is receiving her standard 10% Superannuation Guarantee contributions (for the 2021-2022 tax year) from her employer. To boost her super balance, she has decided to salary sacrifice $100 per month. This will result in an extra $46,100 in today's dollars when she retires at age 67.
For more information and modelling assumptions, visit our superannuation contributions calculator page.
Need more help? You can give us a call on 13 11 84 to speak to one of our qualified financial advisors.
Before joining Australian Retirement Trust, consider the potential loss of insurance and other benefits that you may have in your other funds. The information contained on this website is general information only and does not take into account your individual objectives, financial circumstances or needs. You should consider your own objectives, financial circumstances and needs, before making a decision about the financial product. Also, think about where your future employer contributions will be paid. You should consider the Product Disclosure Statement before deciding whether to acquire, or continue to hold the product. For more information or financial advice from Australian Retirement Trust, call us on 13 11 84.