An award-winning retirement plan
The award-winning Lifetime Pension helps you enjoy life, without worrying about your savings running out. It was the first of its kind in Australia and is designed to work together with your Retirement income account. We offer this product on our QSuper website, as part of Australian Retirement Trust.1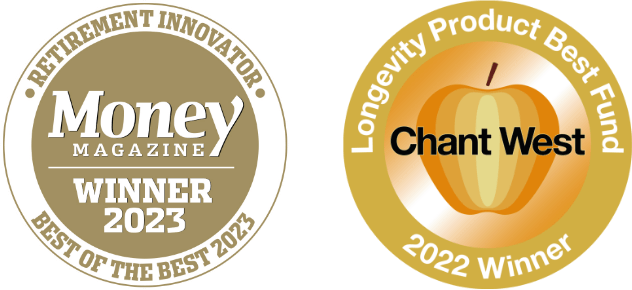 ---
Income for life
Receive a tax-free income for the rest of your life, no matter how long you live.
Spouse protection
Choose to have payments continue to your partner (if they're also 60+) after you pass away, so they'll have an income for life.
Money-back protection
Designed so you get at least your money back in fortnightly payments, or so your beneficiaries get what's left if you pass away.
Age Pension benefits
Potential to either become eligible for an Age Pension or receive higher payments with a Lifetime Pension.
How Lifetime Pension works
Your Lifetime Pension money goes into a pool that's collectively invested in the QSuper Balanced investment option for Retirement Income accounts.
Everyone's payments will change each year to reflect the financial performance of the Lifetime Pension pool.
This makes sure the pool can keep paying everyone an income for life.
Payments are expected to increase over time, but they may go up or down.
Once you open a Lifetime Pension, you have up to 6 months to decide if it's right for you, and after that, it's a permanent purchase.
See the Super Savings Product Disclosure Statement for Income Account and Lifetime Pension for details.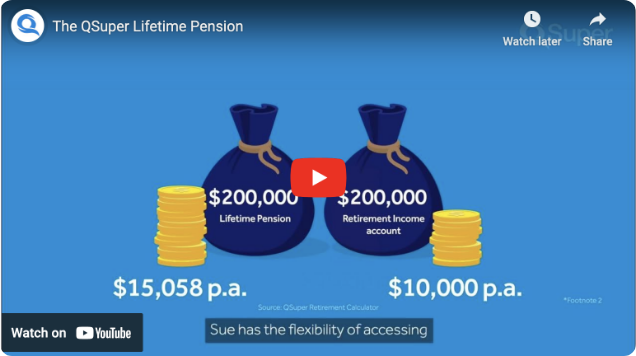 Watch: The QSuper Lifetime Pension
---
Got more questions?
Check the FAQs on the QSuper website.
Find out how much your payments could be
How much you will be paid in your first year depends on:
Your purchase price
Whether you have the single or the spouse protection option
Your age when your Lifetime Pension starts (or with spouse protection, the age of the younger person)
When your Lifetime Pension starts during the financial year
This is just a summary, so see the starting rates for a Lifetime Pension by reading the Product Disclosure Statement for Income Account and Lifetime Pension or using the Lifetime Pension Income Estimator. Or estimate your total retirement income with a Lifetime Pension using our Retirement Calculator.
How to apply for a Lifetime Pension
We offer this product through the QSuper website, as part of Australian Retirement Trust.
We'll open a QSuper account for you (separate to your ART account/s), then transfer the money to start your Lifetime Pension.
Are you eligible?
You can start a Lifetime Pension any time between your 60th and 80th birthdays, if you meet at least one of the following:
Changed jobs on or after age 60
Received an eligible death benefit
How Lifetime Pension works with other income sources
Lifetime Pension is designed to work with an account-based pension, like our Retirement income account. You could get Age Pension benefits as well if you're eligible, because only some of your Lifetime Pension money and payments count towards Centrelink's income test and assets test.
Lifetime Pension
Income for life
Gives security in retirement, knowing your payments won't stop, no matter how long you live.
Never runs out
Possible Age Pension benefits
Payments adjusted yearly
You're currently on this page
Retirement Income account
Income for lifestyle
Adds flexibility by allowing you to change your payments and withdraw money anytime.
Income as long as you have a balance
Choose your investment options
Flexible payment options
Age Pension
Income safety net
Government payments to help eligible retirees pay for the essentials, no matter how long you live.
Never runs out
Budget lifestyle only
Payments based on your assets and income
Footnotes
1 Awards are only one factor to take into account when deciding how to invest. Past performance is not a reliable indicator of future performance.