There are several potential benefits, including:
Continue to receive your regular payments for longer
Combine different amounts together into just one Income account
Your money is invested in your chosen investment option, and tax-free in retirement
Save money and stop paying multiple fees if you combine other super accounts
What's more, you can keep enjoying exclusive deals and everyday savings with Australian Retirement Trust's Rewards.
Just remember that you won't receive any income payments once you close your Income account for a restart, until your new Income account is set up.
How does restarting an Income account work?
As a Super Savings member, you always have an Accumulation account available for when you need it. Don't worry, while you don't have a balance in the Accumulation account you don't pay any fees.
You can restart your Income account anytime with as little as an additional $10,000. If you want to combine a number of different amounts, you'll need to combine them in your Accumulation account before you restart your Income account. Find out more about adding to your super and the yearly limits on how much you can add.
Once you're ready, your existing Income account is closed, and the money is combined with your Accumulation account balance. A new Income account is then started to continue your payments.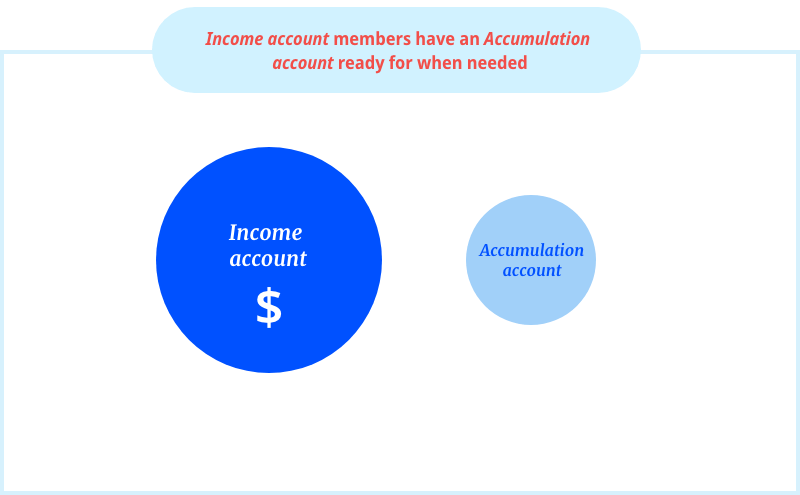 Your Australian Retirement Trust membership and how you manage your account remains the same, including access to Member Online, your investment and drawdown set-up, beneficiaries, and any third party authorities you may have.
It's important to know your money will be invested in an Accumulation account while amounts are combined, so Accumulation account fees and costs will apply. If you've not made an investment choice, your money will be invested in the default investment option. Read the relevant PDS for more information.
Ready to restart your Income account?
Once you're ready, you can restart your Income account quickly and easily in Member Online or complete a Restart an Income account form.
Need some financial advice?
An adviser can consider your whole financial situation and any impacts to the Age Pension. Speak to your adviser today. If you don't have your own personal financial adviser then contact Australian Retirement Trust to see how restarting your Income account could work for you.