On this page
Getting started
Enabling data feeds
Updating your data feed request
Changing Advice Software
Changing your data feed password
Changing your Advice Software username
Disabling your data feed
Troubleshooting
---
Getting started
How do I get access to Adviser Online?
To get access to Adviser Online, you'll need to Register as an adviser with Australian Retirement Trust.
View the Adviser Registration Terms and Conditions.
Once your registration is approved, you will receive access to Adviser Online. Approving your registration typically takes two business days.
Adviser Online log in process
To log in to Adviser Online you will need to enter your username (personalised work email) and password.

As a security measure, you will also be required to confirm your identity by receiving and confirming a verification code sent to one of your recorded email addresses or mobile numbers.
Note: You'll only be asked to enter this code once a day for each computer or device.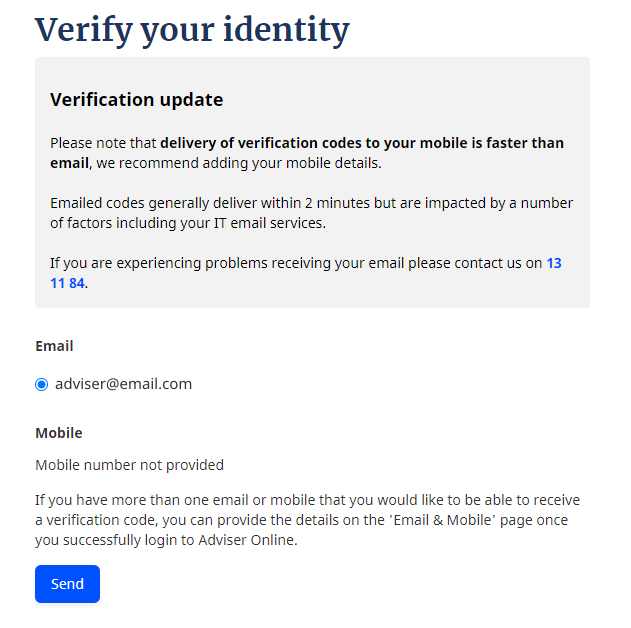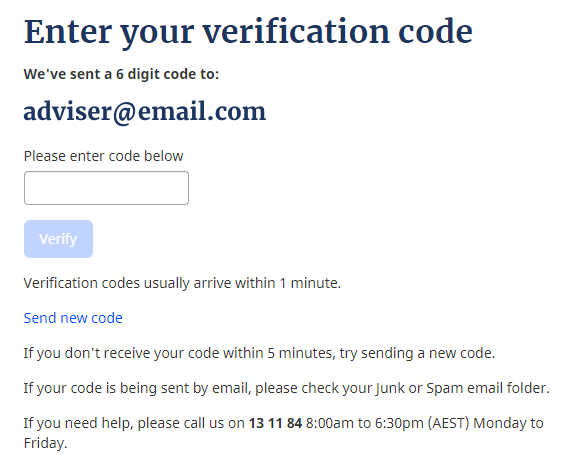 How do I view my client's details in Adviser Online?
Adviser Online allows you to view the details of clients who have an account in our Super Savings product offering, and where you have established an authority in our system.
How do I reset my password for Adviser Online?
Give us a call on 13 11 84 8:00am-8:30pm AEDT (7:00am-7:30pm AEST) Monday to Friday and we'll reset your password.
Back to the top
---
Enabling Data Feeds
The following section will outline how to enable a data feed within Adviser Online.
Once you've successfully logged onto Adviser Online and you can see your active client list, follow these steps to enable the data feed:
Click on the Data feed button, found on the top right-hand corner
Choose your advice software
Enter your advice software username
Choose a password that meets the minimum requirements as prompted on the screen, then confirm this password
Click on generate and you will be provided an adviser code. This code needs to be entered into your advice software in the appropriate location along with the password you set in step 4.

Once you have completed these steps, you will be able to generate Data feed consent forms for your clients. You will need to submit a Data feed consent form signed by your client in order for the clients' account information to be sent via the data feed. The Data feed consent form can be found in the Transactions > Digital Form Library of Adviser Online and will only become available after you have enabled your data feed.
Back to top
---
Updating your data feed request
Once you've enabled your data feed, you will be able to return to the "Enabling data feed" page of Adviser Online if you need to see the adviser code we have given to you for your data feed, or to do any of the following activities:
Simply check the box 'Disable my existing data feed' and 'Submit' in order to cease your data feed.
Follow the same process as above for enabling the data feed. Your data feed will commence within 48 hours.
Update your advice software username
Simply update the advice software username you have previously provided us and 'Submit' so we can update your credentials and recommence sending your data feed. Your data feed will continue as normal.
Change the password for your existing data feed
Simply enter the new password, confirm the new password, and 'Submit'. Then input this new password into your advice software. Your data feed will continue as normal.
Back to top
---
Troubleshooting
Which internet browsers does Adviser Online work on?
Chrome
Internet Explorer 11
Firefox
Safari
Microsoft Edge
I have hit 'Save & Next' and nothing seems to happen. Why?
There are probably still mandatory fields on the screen that need completing. Scroll back up the screen and you should see those fields highlighted in red with a suitable message.
I have been presented with an error screen after 30 minutes of non-activity. What should I do?
Your session has timed out. Close your browser session and log in again to initiate a new user session. Any work in progress will be saved up to the previous Save and Next button.
I am unable to attach any documents – I receive this message: File <file name> could not be uploaded. What should I do?
You most likely have multiple sessions of Adviser Online open across multiple browsers and one or more of those sessions has timed out. Close down all your browsers and retry.
If you're still having no luck, try using a private (incognito) browser.
Back to the top
---
Need more help?
For further assistance, please phone us on 13 11 84 8:00am-8:30pm AEDT (7:00am-7:30pm AEST) Monday to Friday.