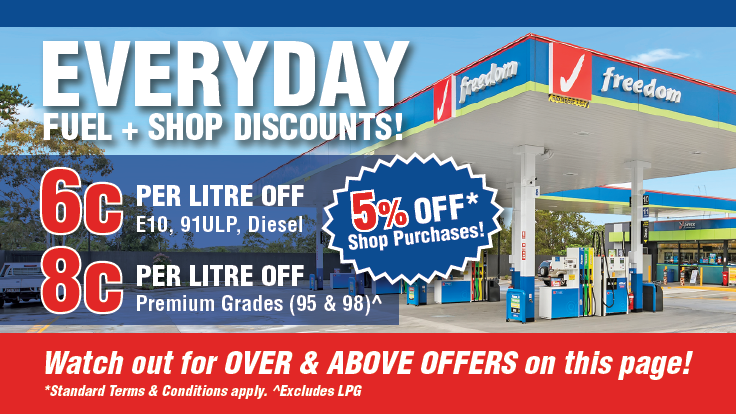 REDEEM THIS REWARD
This offer is so good, we've kept it locked. Verify your membership to unlock.
Unlock this Reward
This Reward is currently only available to Super Savings members
Freedom Fuels have partnered with Australian Retirement Trust Rewards to offer members discounts on fuel and convenience store items by joining its Family & Friends Discount Program.
What's on offer?
6 cents per litre (inclusive of GST) off the full pump price of Diesel, ULP 91 and E10 ULP fuel grades,
8 cents per litre (inclusive of GST) off the full pump price of Premium 95 and 98 fuel grades, and
5% off convenience store items (excluding newspapers, magazines, all Telco communication items including handsets, phone recharge vouchers and prepaid mobile SIM cards, credit or other prepaid cards, cigarettes and tobacco products, Go Via cards, trailer or equipment hire, and/or any other third party supplied product sold by Freedom Fuels as an Agent).
How to claim this offer?
Unlock this offer - Click the "Unlock this Reward/Get this offer" button to log in to Member Online to access this offer, and
Scan at the counter - Scan the digital 'Freedom Fuels Family & Friends Club Discount' card on the offer page in Member Online when making a purchase in-store on eligible fuel and convenience store items to claim your discount
You can find a list of Freedom Fuels participating sites here.
Terms and Conditions apply. Fuel offer cannot be used in conjunction with any other offer (including staff discount cards or any other discount offers available through Freedom Fuels). Freedom Fuels Family Friends Club Discount Program Terms and Conditions can be found at freedomfuels.com.au/discountcardterms/ff_art_rewards_terms_and_conditions.pdf. Your use of the digital card will be deemed as acceptance of its terms and conditions. Australian Retirement Trust Pty Ltd ABN 88 010 720 840, the trustee of the Australian Retirement Trust ABN 60 905 115 063 ( Australian Retirement Trust) does not endorse these products or services. It is providing this information to Members for their benefit and Members should undertake their own inquiries in relation to the products and/or services offered. Australian Retirement Trust is not an agent, dealer or promoter of the products and/or services offered. Australian Retirement Trust is not liable for any representations made by the suppliers in relation to these products and services. Australian Retirement Trust respects your privacy and does not supply your personal details to these or any other third-party supplier. Please contact Australian Retirement Trust on 13 11 84 or write to GPO Box 2924
Brisbane QLD 4001 if you have any questions, concerns or suggestions.